Emergency Pediatric Dentistry is Available in Prospect, KY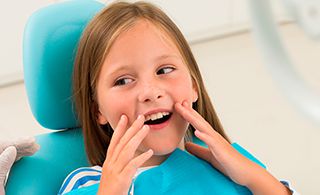 Dental emergencies can happen in the blink of an eye, and they're especially distressing when they involve the youngest members of your family. If your child has experienced a severe dental injury or is complaining about oral pain, stay calm and pick up the phone right away to contact Pediatric Dentistry of Prospect. Dr. Danielle sees emergency cases as soon as possible, and someone from our team is available 24 hours a day, 7 days a week to provide guidance and support. Common pediatric emergencies include the following:
Knocked-out permanent tooth
Broken/fractured tooth
Severe toothache
Object stuck between teeth
Oral bleeding
Gum tissue injury
Jaw injury
If your child has knocked out one of their primary ("baby") teeth, we will typically not attempt to reimplant it, as this could cause damage to the developing permanent tooth below the gum line. However, we do ask that you schedule an appointment as soon as possible so that we can determine the extent of the damage and if any neighboring teeth were affected by the injury.
Are there ways to help prevent pediatric dental emergencies? While these situations aren't entirely unavoidable, there are steps parents can take to reduce the risk:
Be sure to schedule routine check-ups for your son or daughter every six months! During these visits, our team can identify and treat small areas of damage before they're able to develop into full-blown emergencies.
Limit your child's exposure to foods that are overly tough or sticky.
If your child is an athlete, make sure they wear a sportsguard to protect their smile.
Teach them to use tools (like scissors) instead of their teeth for ripping into packaging.